PotterCast Reminders: Submit your Canon Conundrums Feedback and Questions for the Official Video Games Producers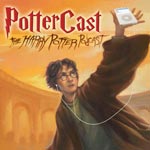 Oct 12, 2006
Uncategorized
The next PotterCast will be back to its normal tricks, with tons of theory discussion, interviews and more, but since it's been two weeks since we said it, here's a reminder: Call in your answer to the Canon Conundrums question of the week, "How did anyone find baby Harry after his parents were killed if the Fidelius Charm stops anyone but Pettigrew from leaking the location?" In other words, how did they find him? (Remember that only the secret keeper can reveal it…)
Also if you've been around the past few weeks you know that the lovely Donna has written an excellent report of the production of the latest Electronic Arts video game, and since then there's been a very vibrant discussion ongoing in the LeakyLounge where you offer your ideas on what you'd like to see in the game and that info goes directly to the makers of the games themselves. As mentioned last week, soon the producers of the games will visit PotterCast for a chat about production; we will be drawing upon your hordes of already submitted material but would also like to send the production staff some voicemails to answer as well, so send them in.
To do either of these things, skype us at username PotterCast, or call 1.702.42.LEAKY (1.702.42.53259), or (0) 207 193 2872 in the UK.