Rupert Grint Talks Thestrals and More about OotP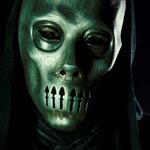 Oct 12, 2006
Uncategorized
Actor Rupert Grint has given a new interview while in New York for the premiere of his film "Driving Lessons" where he discusses a few of the scenes in the upcoming Harry Potter and the Order of the Phoenix. He says they will wrap up filming in November, and will start filming Harry Potter and the Half Blood Prince "next summer." Rupert notes that they are working on some of the final scenes with Dumbledore's Army, and he also describes the filming of the scenes with the Thestrals.
You were recently getting ready to film the Thestral scenes in the fifth Harry Potter movie. Have you finished those yet?

" Yeah, we did those the other day. It was really a good time because they had to make a mold, a specially made harness that goes under your legs, because in the film it has to be invisible. [The Thestral is a magical horse-like creature that is only visible to those who¹ve witnessed death.] They put you on this crane and lifted you up in the air. That¹s been my favorite scene so far."
On a related note, in another interview with Blackfilm.com Rupert gave the good news…He finally passed his driving test!

Thanks Leif!
UPDATE: Clips & Quips.com have a video interview on line where he he reiterates much of the above. He again mentions working with Julie Walters, and said he would be back filming Harry Potter Thursday and Friday (Oct 12-13). You can also watch this video portion of Rupert's interview only here, on youtube, courtesty of RupertGrint.net.