Leaky Lounge Rocks This Halloween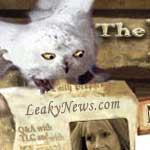 Oct 14, 2006
Uncategorized
Our Leaky Lounge is set for some rockin' fun this Halloween, as some early tricks or treats are now hidden in our forum. Running today through Halloween, you can find some randomly hidden tricks or treats in the discussion threads of our forum, with new surprises appearing several times during the day.
As an extra special treat, we have some special guests joining us. Wizarding rock groups Harry and The Potters, The Remus Lupins, and Draco and the Malfoys have provided some songs from their albums which we will be hiding in the forums along with the other trick or treats.
Our big forum wide event will take place Saturday, October 28, which will have much more spooky fun, but in the meantime, be sure to get an early start on your Halloween celebrations and stop by the forums today!