TLC's Crafty Costume Accessories Contest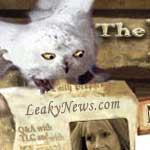 Oct 15, 2006
Uncategorized
C'mon and get crafty everyone! Just as Halloween is right around the corner and we are starting to think about our costumes, Leaky is happy to announce our newest event in the Cauldron: The Costume Accessories Contest. If you are planning on dressing up for the holiday Potter style, or even preparing for all the conferences set for next year and will be making your own accessories, then this contest is for you.
There will be two categories to submit your original creation in; the "Experienced crafter" for those who have previously made items before, or the "Inexperienced Crafter" for the novice crafter. While a complete full set of robes are not accepted, entries of accessories such as Jewelry, Masks, even mittens are permitted. You may submit up to three items, and send in as many photos of each of the item as you wish, with all entries from participants ages 13 and over going to [email protected] by Midnight November 5. Along with your submissions, please include your lounge user name if you have one (or an email best to reach you), the theme, category of submissions, and craft technique used.
Note that entrants who submit a tutorial explaining how they made their item, along with a photograph of the item, will receive five bonus points. Entrants who use the tutorial found on our Craft section will receive one bonus point. Good luck and get crafting!