New Video Interview of a Magical Jason Isaacs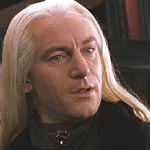 Oct 18, 2006
Uncategorized
There is a new video interview with actor Jason Isaacs (Lucius Malfoy) online today, taped last week with thelondonpaper.com while he was promoting the UK launch of his TV series "Brotherhood." Jason declined to discuss in detail the upcoming Harry Potter and the Order of the Phoenix, saying he might get fired. He instead recommended the book, as he feels the film "won't vary too much from that." Towards the end of the interview, there is a funny part where Jason also reveals his ermm magical tricksy side…Watch here.


Update: You can see some new photos of Jason at this launch in the UK here in our galleries.
Thanks to the ladies at Jason'sFanZone!