PotterCast 60 Ready for Download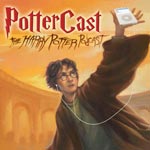 Oct 24, 2006
Uncategorized
Long-delayed but finally here: Our Harry Potter podcast for this week is liveTo listen, just hit the "Play" button on the right side of the page (—>), or use iTunes, or direct download.) More notes:
-We're late, we're late, for a very important date. Blame Melissa's Canon Conundrum file for going crrrrazy.
-Don't forget to blog, lazies!

This week's challenge: Make the PotterCast art Halloweeny! Get your high-res art here.
-A special surprise: House of Black (aka Loveshack)
-Our canon conundrums topic: Where did Snape and Draco go after book six?
-Is Snape still bound by the Unbreakable?
-In the fan interview: Snape. That's all. Snape.
-She will now be known as…MAMA VOLDEMORT!
-Harry will not fade away!
-No soup for you
-Frak. FRAK! MICKEY!
-The PC pumpkinn comittee
-We don't know where the Apple thing is; we'll let you know when to look again
Running time: 1:35:22
Edited by:
Stede Bonnett (Intro/fan interview/wrapup/final edit)
Jeff Gregory (Mailbag)
Mike Neighors (Canon Conundrums)
Remember you don't need an iPod to listen; just a computer and an internet connection, which you already have! You can listen most easily on iTunes, which you can download and install here, by clicking here to listen, or you can just use the streaming Flash player at PotterCast.com or just on the right side of this page. You can also direct download it here, and discussion of the PotterCast is right here. Enjoy!