BIFA News for Frances de la Tour, Jason Isaacs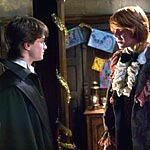 Oct 26, 2006
Uncategorized
Actress Frances de la Tour (Madame Maxime) has been nominated as "Best Actress" for her role in the film "The History Boys" at the British Independent Film Awards. Readers will remember that earlier this year, Ms. de la Tour won the Tony Award for her performance in the theatrical production of The History Boys.
In a related note, the BIFAs will present a special Jury Prize given by a select panel. This panel, which features various actors and celebrities, will include actor Jason Isaacs who will be seen again in the role of Lucius Malfoy in the upcoming Harry Potter and the Order of the Phoenix.
The BIFA awards will be presented on November 29, in London, England. Congratulations Frances!