Something Wickedly Fun This Way Comes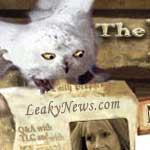 Oct 28, 2006
Uncategorized
Mystery, Mayhem, and Magical Fun
are the order of the day; it has just begun!
Something wickedly fun comes your way,
make haste to the LeakyLounge without delay!
Your Haunted Happening agenda for the day includes:
Tricks and Treats: Goodies appearing now until 9 pm tonight
The Haunted Hunt The hunt is on from 1pm-4pm EST. Oh nooo! Our favorite Poltergeist has been Peeves-Napped! The Horror! 😉
Help us find him in our own version of Clue. New hints and clues will be unleased every 30 minutes in the game. Do watch out however, you never know who may show up to help you solve this errm terrible crime.
Corner Booth – There will be games and fun in our text chat running from noon – 5 EST

Plus, make your own Avatars, check out the Photoshop/Costume thread, and do a little pumpkin carving in our Craft section. Enjoy!