Say What? A New Quiz in the Quizzes Section!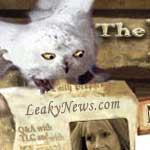 Oct 29, 2006
Uncategorized
Yes, really, it's true: We have a new quiz in our Quizzes section: The "SAY WHAT? Harry Potter quiz" was written by reader Amanda Crosier and tests your knowledge on who said what in the Harry Potter books.
Those of you who've been writing, begging, cajoling, etc., over the past months for us to update our quiz section: This update doesn't just mean one more quiz for the next, oh, year. This means we have finally sorted things out over there and will be updating it often. So check back, often. In the meantime, enjoy!
Huge thanks go to Andy, our quiz elf; Nick Poulden and Nick Rhein for programming the section; Heather Campbell, our Leaky designer who did the artwork; Aislinn, our fact-checker; our forum mods for testing the quizzes out and of course to Amanda for sending in her quiz. If you have a Harry Potter quiz you'd like to see us inlcude, please send it to us at [email protected].