Brendan Gleeson Can't See the Future for Mad-Eye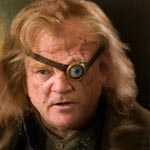 Nov 10, 2006
Uncategorized
Previously we told you that actor Brendan Gleeson would be in Boston for the Irish Film Festival this weekend, where he will be receiving the "Excellence Award" for his contributions to film. In a short new interview with The Boston Globe, Mr. Gleeson remarks on his role as Mad-Eye Moody in the Harry Potter films, and if he knows what the future holds for his character in Book Seven.
"I could just tell you straight I have no idea," the Irish actor told us this week. "It's all too fascinating, but I'm afraid I'm in the same pot as everybody else."
Brendan Gleeson will be seen again as Mad-Eye in the upcoming Harry Potter and the Order of the Phoenix. A reminder as well that Mr. Gleeson is set to hold a question and answer session with the public at the festival; anyone attending please send in your report!