Dan Radcliffe Talks a Possible Death for Harry Potter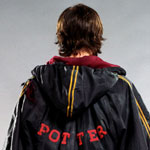 Nov 10, 2006
Uncategorized
Actor Dan Radcliffe has given a new interview where he gives his thoughts on the future of Harry Potter in Book Seven. Echoing comments he has made previously in a new conference call held recently in London, Dan spoke with reporters on what he thinks will happen to Harry and said that he feels the character may die. Dan also correlated the Harry/Voldemort relationship to characters in the Sherlock Holmes series by Sir Arthur Conan Doyle. As quoted by Sci-Fi Wire, Dan Radcliffe
"…drew a parallel between his character's relationship with Harry's nemesis, the evil Lord Voldemort, and the one between Sherlock Holmes and Moriarty, both of whom had to perish at Reichenbach Falls in order for the villain to be vanquished.

"I think it will be something to do with the fact that … maybe the only way Voldemort can be killed is if Harry is killed as well," the 17-year-old actor said. He added: "My friend sort of compared it to both [Holmes and Moriarty] dying at the same time. But, obviously, he hasn't read the sequel [in which Holmes was revived]. So, yes, but that's the thing that I would sort of like to see coming."
Dan was also asked if he thought he would be playing a death scene in the film version of Book Seven.
"That's a very good question. … I like to think that I will. … I think, personally, … that's the only way [author J.K. Rowling] could ever halt any call for her to keep writing [Potter books], because, I mean, if Harry survives, she'll just be getting plagued by requests to write an eighth book for the rest of her life."
Thanks to Paul, Lillian and everyone who mailed!