Stephen Fry Nominated as Greatest Living British Cultural Icon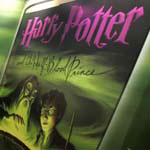 Nov 10, 2006
Uncategorized
Stephen Fry, narrator of the British Harry Potter audiobooks, is one of ten people nominated as Britain's greatest living cultural icon on the BBC2 program, "The Culture Show." The ten nominees selected through online voting also include playwright Alan Bennett, singers David Bowie and Kate Bush, actor Sir Michael Caine, Sir Paul McCartney, singer Morrissey, model Kate Moss and fashion designer Dame Vivienne Westwood.
Neither author J.K. Rowling nor Queen Elizabeth II appears on the list. Criteria for nomination included being alive, being born in or living in the United Kingdom, and having made an impact on British cultural life. Other considerations suggested on the "Living Icons" FAQ page are:
* If your icon died tomorrow, would they make front page news?
* Has your icon made a cultural impact beyond their personal skills or field of work?
* Will their name be recognised by young and old alike?
* Will we still be talking about them in 10 years time?
Votes may be cast online, via text message, by phone, or in person at the National Portrait Gallery and the National Gallery, Scotland. Voting begins on November 11 and continues through midday November 27. The list of icons will then be narrowed to three people, whose names will be announced on Saturday, December 2. Portraits of the top three icons will be exhibited at both the National Portrait gallery and the National Gallery, Scotland from the beginning of December. Votes may be cast for the winner from December 2-11. The winner of Living Icons will be announced on Saturday, December 16.
Congratulations, Mr. Fry!