Product Watch: New NECA Potter Items, Noble Collection Update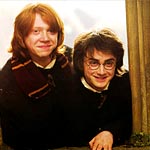 Nov 11, 2006
Uncategorized
Earlier we told you NECA, the company who will be producing new Harry Potter products, would be releasing new products in March of 2007. Necaonline.com now has been updated with a first look at some of the items soon to be available. Among those highlighted is a wall mural of Hogwarts Castle , a new TriWizard Cup Lamp, a Platform 93/4 Hogwarts Express sign, as well as lunchboxes and mugs. More is expected to be released soon, including action figures, so stay tuned!
In one other Potter product update, The Noble Collection has updated their Harry Potter Collection with some brand new wands belonging to the Hogwarts Professors. New are wands from Professor McGonagall, Remus Lupin, Mad-Eye Moody, as well as one belonging to our friend Neville Longbottom(yay Neville!). Other new items include this cool Hungarian Horntail Bookend, as well as a fine quality Gryffindor House Scarf and House Tie. Much of the Noble Collection is available already via our Cauldron Shop; we will update you when the new items are available in our store soon.
Thanks to NECA, Noble, and HarryPotterFanZone.