Full report of Emma Watson at Oxford Union: Yates 'taught me about truth,' Evanna 'humbles me,' and more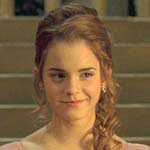 Nov 12, 2006
Uncategorized
We have a special report for you today: Emma Watson (Hermione Granger) spoke earlier at Oxford Union at Oxford University, and our correspondent Lorie (better known to PotterCast listeners as Asphodel Wormwood) was there to record the proceedings. She has sent us a report of the event, which includes many thoughtful and interesting tidbits from Emma: What the different directors taught her, how Evanna humbles her, how she's scared of the end of Harry Potter, and how she fell right down the Yule Ball stairs wearing her £20,000 dress.
Pictures will come tomorrow (of course, anyone who was there should send them in as well!) – Read below and enjoy!
~*~
By Lorie Damerell, for The Leaky Cauldron
'I'm a normal girl and went to a normal school,' Emma Watson began.
In front of some of the most intelligent students in the UK, Watson's speech at the Oxford Union focuses on her acting career and starts at the beginning: she's 'a 16-year-old girl who something special happened to.' Emma said that her only dream as a young girl was to be a performer, and what better opportunity than to be in some of the biggest films of all time? She went over the oft-told tale of her casting: how one Thursday lunchtime, the selecting team for the films came to her school and asked for a selection of around 15 young girls to be put forward for the part of Hermione. 'I have never wanted anything so much in my entire life,' she said, and waited 'endless months' for the verdict. When she received the news, she 'just cried' with happiness.
About 35,000 people have been employed in the making of the Harry Potter film, Emma said, so it's no small wonder that her first day on set was rather intimidating. Her mascot was her pet hamster, Milly, who she describes as her 'confidante' when times got hard — four-and-a-half hours a day (the maximum amount permitted legally for minors) of acting that produces only two minutes of actual screenplay would be enough to send most young girls in search of some furry consolation.
'I got tired but it never seemed to matter — I was so excited,' She said.
Watson would do anything up to 22-and-a-half hours of acting and a minimum of 15 hours tuition a week. Where the boys might grow four inches per film, Emma would lose teeth and on-set dentists would fill them in so that continuity could be kept.
Emma said being an actress is about trust. Unlike her character, Emma took three years to let go of her vanity and become Hermione, she said. Initially conscious that she could be teased for wearing the woolly jumpers Hermione had to don, she finally learned to let it all come naturally and fit into the role. Emma loves to learn, and stated this repeatedly throughout the evening.
She identifies the different directors by what they taught her.
'Alfonso Cuaron taught me about beauty', Mike Newell taught her that, 'acting just wasn't enough', and David Yates 'taught me about finding truth.' After five films and many great directors and actors about her to inspire, she has finally got to grips,' she said.
She went on to speak about the nitty gritty of acting, the technical elements so rarely seen in the final product.
'I find blue screen really difficult,' perhaps because it was 'depressing being surrounded by blue all the time,' she said.
She finds the sets most exciting; hippos were behind the magical paintings on the walls, hundreds of different kinds of sweets lined the shelves of Honeyduke's, and they were all edible. No one knows how many wands Ollivander kept, but in the film there are seventeen thousand different wands and a total of eleven thousand books were made by props staff on set for various purposes.
Warner Brothers have spent a 'fortune' on publicity, Watson said. Harry Potter is a 'global phenomenon' and she asks herself, 'where do I escape?'
She estimates she's done 300 interviews on average per film. 'People suddenly believe that they have the right to own me,' she said. But there is no bitterness in her voice — she doesn't agree with it, but seems to understand this is all part and parcel of being an actress – just like the disproportionate focus on her appearance and weight, and the way people tend to call her Hermione.
'Am I scared of being stereotyped? Am I scared of the end of Harry Potter? The answer's 'yes," she said.
She has spent six years acting as Hermione, and says 'It is 'not a dream come true but a job,' and that job is a roller-coaster. There are laughs to be had but stress also. Sometimes, she says, it's as though one more scene will make her 'explode'.
Near the end of her speech, Emma speaks about Evanna Lynch, who has been cast as Luna Lovegood and is known by now to Harry Potter fans as just as big of a Harry Potter nut as all of us. 'It humbles me to the core,' Emma said.
Following typical Oxford Union speaker format, questions were taken after Emma's speech. She was first asked how much of the character she had to learn about, while filming. Emma said, with much emphasis, that she 'loved' the books before being cast.
Before filming, she met JK Rowling and wanted to be Rowling's Hermione and no other version. But she does nothing to 'get into character…[because] I'm actually really similar,' and so it's all 'really easy. Really, I'm quite lucky.'
She then described Hermion as 'a really great role model' for her, and no wonder. Like her screen counterpart, Emma is focused on her education. Now at the stage of doing AS- and A-Levels (the Muggle equivalent of NEWTs) she had to think really hard when offered the role of Hermione for the fifth film. She sat down with Yates, and told him how important her education was to her. But the directors 'care about me' and 'really look out for me' so she was granted time off for taking her mock GCSEs and actual GCSE exams (Muggle equivalent of OWLs) at the beginning of filming for Order of the Phoenix.
Will Robertson, Oriel Classicist, asked whether Emma feels she has influenced the character in the books. Emma's response is that she knows Hermione is based upon Rowling herself, however flattering it would be to have influenced her. Watson takes the opportunity to say that had she written the books that she couldn't bear for them to be made into films. 'I can't believe how supportive [Rowling's] been of the films … amazing. Really, really amazing.'
When asked what in the Potterverse she would like to be real, she refers to that special dispensation granted to Hermione in her third year: a Time-Turner. Not for the same purposes as Miss Granger; instead Emma says that it would be really rather useful to have if you ever said the wrong thing — then you could go back and alter what you had said. But it would still be 'quite a responsibility.'
The next questioner asks Emma what it was like to film the Yule Ball. It was a 'defining moment of feminity,' she says. Wearing 'this bloody &163;20,000 dress' that was custom-made, with 'so many people prodding and poking me.'
Add to that cauldron of pressure a set of heels and a director suggesting hundreds of different ways to walk down stairs, Emma confessed that, on the second take, she fell down them. She was 'absolutely mortified.'
Did Emma have dreams before? She said that as a young girl she wrote poetry. She loved English and all that it entailed, and always wanted to perform.
And her favourite ice-cream flavour? Mint choc-chip. She was then invited to a student's college for lunch on Sunday.
When asked who she thinks Hermione as a character has inspired, Emma generalized and reminded us of some of Hermione's more significant qualities.
'She bosses the guys around' and makes having a 'brain not beauty cool.' Although 'slightly socially inept' Hermione is 'not ashamed of herself.' Emma says that the saddest thing for a girl to do is to dumb herself down for a guy. Hermione wouldn't do it, so neither should anyone else.
She is then asked what the most magical moment of filming was. There were 'so many sets' that were 'just stunning,' she says, but the most impressive was when she first saw the Great Hall first lit up. But in the most recent film, there was a magical moment of a different kind: not a set, but the actors and actresses. Luna Lovegood described the DA as 'like having friends' and for Emma, when the DA first got together and filmed their first scene it was 'really cool' — a real magical moment.
Emma Watson has always wanted both school and acting, and this is how she sees her future. She really wants to go to university, particularly when the acting system is 'unreliable.' She wants to go elsewhere, to learn what it is like to live on your own, to live with friends and away from parents. Speaking of which, she was then asked what her parents — who sat on the front bench to Watson's right — think. Both attended Oxford and are intelligent enough to do what is best for their daughter.
'All my money is pretty much locked away,' she said, and she is more than happy with this. She doesn't really like being asked about money, but does describe that she has an allowance and that enables her to live like a normal teenage schoolgirl.
Will she be comfortable in a future of acting where she is not Hermione? It is 'a bit of a daunting concept' and she hopes that she is 'talented enough to pull it off' when she does finally dabble in something different. Perhaps theater or maybe just a 'big blonde bouffant.'
The audience laughs and claps, and Watson is escorted out.