PotterCast #63 Live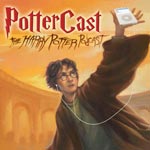 Nov 12, 2006
Uncategorized
Our Harry Potter podcast is now live: this 63rd episode of PotterCast is all about the trailer and what's coming this week(ish): listen, just hit the "Play" button on the right side of the page (—>), or use iTunes, or direct download. More notes:
-This week, we take a break from our usual format to talk trailer, movie, and more with a longtime PotterCast friend and movie expert, Garth Franklin from DarkHorizons.com. It's all movie all the time on this one, as we gear up for the first real preview of Harry Potter and the Order of the Phoenix.
-We talk predictions and predilections, expectations for the fifth film, expectations for the trailer, why we bother with this whole teaser-trailer thing, how the whole teaser-trailer thing got started, who started it, what 2007 will bring for Harry and the franchise, the film's competition, and much, much, more, from someone who knows these things (Garth, not John).
-We distill what's going on with all the descriptions of the trailers, and lay out what we expect and don't expect to be in the real one.
-Uncle Jimmy's Trailer Report
-John's trailer prediction: guess who? 'Dawlish!'
-Which leads to the 'Dawlish Trailer' fan challenge.
-Magical Cribs
-Jo, Alcatraz, who can tell the difference?
-Girls really don't want to see a guy in blue tights.
-Remember, we're live at PhoenixRising in May 2007 – visit thephoenixrises.org to register!
  Editors: Jeff Gregory
Running time: 54:06
Direct Download (25 MB)
Direct Download (Low Bandwidth – 6.9MB)
Remember you don't need an iPod to listen; just a computer and an internet connection, which you already have! You can listen most easily on iTunes, which you can download and install here, by clicking here to listen, or you can just use the streaming Flash player at PotterCast.com or just on the right side of this page. You can also direct download it here, and discussion of the PotterCast is right here. Enjoy!