ABC Family To Show OotP Sneak Peek; Video of Footage from Trailer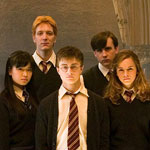 Nov 16, 2006
Uncategorized
Several readers have let us know that ABC Family is currently airing a commercial for the upcoming Harry Potter Weekend we first told you about last week that may contain new footage from OotP. In this commercial, new footage of Harry flying on a broom over the River Thames is shown, along with the Order of the Phoenix flying past the Houses of Parliment on brooms, and this matches part of what TLC described in our transcript of the new teaser trailer.
UPDATE: You can now see this video here, via HPANA. The snippet does contain several of the scenes from the trailer that we at TLC first accurately described in our transcript. Spoiler caution for the trailer.
During the ABC Family Harry Potter weekend, due to air Dec 1-3, a broadcast of the extended version (with probable deleted scenes) of Prisoner of Azkaban will be also shown December 3 at 7:30pm (EST), along with a new sneak look at the upcoming Order of the Phoenix.
The teaser trailer for Harry Potter and the Order of the Phoenix is due to be shown in movie theatres this weekend before Happy Feet. A reminder as well that a sneak peek at OotP will be shown on cable station HBO Nov. 20 as well.
Thanks to Alex, dude and all who emailed!