USA TODAY Feature on Order of the Phoenix Teaser Trailer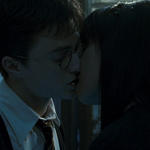 Nov 16, 2006
Uncategorized
The USA Today has now posted online their preview of the teaser trailer for Harry Potter and the Order of the Phoenix. This article, which will be in papers tomorrow, features a new interview with actor Dan Radcliffe who speaks about the film, and mentions the nefarious Death Eater, Bellatrix Lestrange, played by Helena Bonham Carter.
"She's the person, along with the rest of the Death Eaters, who is responsible for a further tragedy in Harry's life," says Radcliffe. (Readers of the fifth book will know what this tragic event is, but in the interest of keeping the movie's suspense, we won't discuss it here.)
Dan also goes on to describe the infamous snogging scene, when Harry of course kisses Cho Chang.
There are moments Potter fans also will embrace — as Harry has his first kiss with his longtime crush, Cho Chang (Katie Leung).

"It was reported that we did huge amounts of takes, but actually you do that number of takes on any scene," says Radcliffe, whose next, even more grown-up role will be on the London stage in Equus in February. "Once you've covered it from all the camera angles, you've done about 30 takes. But because it's the kiss, it was sort of made out that I had requested to do well over 30 takes."

Movie magic takes on many forms.

Says Radcliffe: "I guess if there's one thing that people will be coming to see the film for, it will be the kiss."
Please note that there are some photos to accompany this article that we will have online soon. The teaser trailer for Order of the Phoenix will be shown in movie theatres tomorrow.