New Video Clip of the OotP Teaser Trailer with Snape and More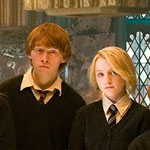 Nov 17, 2006
Uncategorized
WB has sent us a real treat tonight. As if those high res still photos from earlier weren't enough, we now can show you ten exciting seconds of the teaser trailer for Harry Potter and the Order of the Phoenix. Included in this awesome glimpse is none other than SNAPE, along with new scenes showing Harry, Ron, Ginny, the DA and more. Enjoy!
Quicktime
In Windows Media the links are:
The entire teaser trailer is currently showing in movie theatres before the film "Happy Feet" and is scheduled to be available online on the Happy Feet website Monday, November 20 at 3pm (EST).