GoF, OotP Updates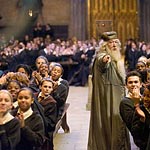 Nov 19, 2006
Uncategorized
We have several Harry Potter TV related reminders and updates for you now.
Update: Thanks to TLC Readers Gilyweed and Erica who let us know a sneak peek of Harry Potter and the Order of the Phoenix just aired on Channel Nine Australia's "Today" show, where the host (from the set of the Great Hall) indicated his report was to be part of a longer special to air at a later date called "Behind the Scenes at Hogwarts." Anyone with video or more details on this preview, please send it in!
Many of you have emailed to say that E! Entertainment will be previewing Harry Potter and the Order of the Phoenix on their news show Monday, November 20. DanRadcliffe.com was able to capture video of a commercial for this , including a short new interview clip with Dan Radcliffe (Harry Potter) on the Ministry of Magic set which you can see via this link. Please check your local listings for airtimes.
Others have let us know now that HPANA is reporting that MTV is possibly set to have some OotP coverage on TRL Monday afternoon as well. As the trailer is due to be released everywhere on Monday, we can expect other media outlets to be showing clips of this, so keep your eyes peeled! We will update with all the coverage as soon as we can.
Also as we told you a few weeks ago, HBO on Demand will also be showing a sneak peek at Harry Potter and the Order of the Phoenix on Monday, November 20 as well. Harry Potter and the Goblet of Fire is set to debut tonight on the cable station at 7:00pm (EST).
Reminder: The teaser trailer for Harry Potter and the Order of the Phoenix will be made available online at the "Happy Feet" website starting Monday, November 20 at 3:00pm (EST). Earlier this week, WB also released a high quality excerpt of the teaser trailer which you can view here in our video gallery. There are also some wonderful new high res photos from the trailer which you can see here; click here for the transcript of the teaser trailer which TLC first brought you in detail earlier this week.
Thanks to everyone who mailed, and DanRadcliffe and HPANA for the links!