PotterCast 64, Trailer Talk, Now Online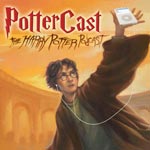 Nov 21, 2006
Uncategorized
Our 64th Our Harry Potter podcast is now live. To listen, just hit the "Play" button on the right side of the page (—>), or use iTunes, or direct download.
It's ALL about the trailer this week: reaction, discussion and more with our friend Garth from DarkHorizons.com, who returns for an encore. The trailer is new, Harry is sweaty, John has a Happy Feet story, incontrovertible is a word and Moody's broom is the dog's you-know-whats. Join us for an hour of talk on 54 seconds of footage – in the nitpicky, obsessive way only Potter fans can do.
Running Time: 53:28
Edited by Mike Neighbors
Direct download (25MB).
Direct download low-bandwidth (6MB).
Remember you don't need an iPod to listen; just a computer and an internet connection, which you already have! You can listen most easily on iTunes, which you can download and install here, by clicking here to listen, or you can just use the streaming Flash player at PotterCast.com or just on the right side of this page. You can also direct download it here, and discussion of the PotterCast is right here. Enjoy!