Cast Watch: Isaacs, Richardson, Gleeson Updates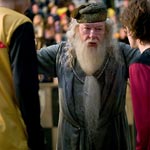 Nov 26, 2006
Uncategorized
Many of you have been emailing with a variety of items with news relating to some of the adult actors in the Harry Potter films involving new projects outside the Potter world. Here is a roundup of what you've sent below:
Jason Isaacs was recently interviewed regarding a recent project that focuses on violence, called "Scars," which will be broadcast next week in the UK on Channel Four. In this article with the Guardian, Jason also briefly mentions Order of the Phoenix, noting:
'I spent two weeks having a wand fight with Helena Bonham Carter and Gary Oldman,' he says having just completed filming on the fifth Harry Potter. 'Potter is a well-oiled machine now, whichever director is in charge, although it's a slow process working with all those special effects. But it's such a laugh – five weeks hanging out with Oldman and Maggie Smith and Michael Gambon, who's a right mischievous devil.'
As we told you previously, Jason is part of the special jury at this year's BIFAs which will be presented in London this week on Wednesday, November 29. Actress Frances de la Tour (Madame Maxime) is also up for a British Independent Film Award for her performance in the film "The History Boys," co-starring fellow Potter actor Richard Griffiths (Uncle Vernon).
Actress Miranda Richardson, who portrayed Rita Skeeter in Harry Potter and the Goblet of Fire, is set to appear in a new ITV special on conservation efforts, including those to save the Asian Elephant. Having traveled to India for this program, Ms Richardson will appear in this new program, Extinct, which is set to air on ITV Saturday, December 9.
Finally, Irish actor Brendan Gleeson is set to portray legendary UK Prime Minister Sir Winston Churchill in a Ridley Scott film called "Churchill at War," that is set to air on HBO. This movie, which is a sequel to the HBO film "The Gathering Storm," is set to go into production next summer in England and France. Brendan Gleeson will be seen again in the role of Mad-Eye Moody in the upcoming Harry Potter and the Order of the Phoenix, due in theaters next July.
Thanks to everyone who mailed!