GoF Wins Children's BAFTA; Rupert Grint, Phelps Twins Attend Ceremony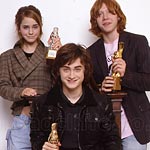 Nov 26, 2006
Uncategorized
As we told you previously, Harry Potter and the Goblet of Fire had been nominated at the Children's BAFTAs in two categories. These awards were held tonight in London, England, and while the film lost tonight in the "Best Film" category (Wallace and Gromit won) GoF won the online vote for your favorite film of the year. Actors Rupert Grint, along with James and Oliver Phelps also attended the event, and RupertGrint.net has posted some early photos and video, which you can see via this link.
Congratulations to the entire Goblet of Fire team!
Thanks to Rupert Grint.net for the picture link!