Cauldron Shop Wish Lists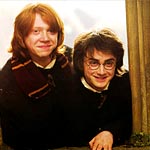 Nov 27, 2006
Uncategorized
As the holiday shopping season is now upon us, don't forget to take advantage of our Cauldron Shop Wish Lists. Launched last year, these lists work like many of the online retailers such as Amazon, are easy to fill out and send to family and friends, plus you can search other wish lists in the shop to find exactly the right gift for that special Harry Potter fan in your life.
New this week in the Cauldron Shop are the Harry Potter Gryffindor Seeker Doll by Tonner, along with the Hedwig Accessory Doll.
Looking for some good stocking stuffer gift ideas? Then how about the DVDs of the first four Harry Potter films, now at super great prices as they make way for the High def versions due next year from WB. All proceeds made via the Cauldron Shop, your one stop for Harry Potter merchandise, help support the entire Floo Network which we appreciate very much!