Lost and a King Discuss the End of Potter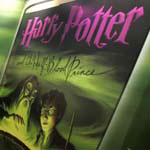 Nov 28, 2006
Uncategorized
The latest issue of Entertainment Weekly contains a snippet of conversation with horror master Stephen King and TV show Lost producer Damon Lindelof, where the writers discuss the end of Harry Potter. There's a preview of the article online here. In the meantime, enjoy this snippet, courtesy of reader BlueTwilightDew. Thank you!
EW: How does not knowing when Lost could end affect your current storyline choices?
Lindelof: We're proceeding as if they are going to allow us to do what we plan, which is a four- or five- season arc with potentially a movie to wrap it up. My guess is they'll realize that the endgame is in play when major characters start getting bumped off.

King: Unless, of course, you run into the kind of situation I had at this [August] event in New York with J.K. Rowling and John Irving. This kid said, "You can't kill Harry [Potter]! We, the fans, don't want him to be dead!" You could run up against that too.

Lindelof: It's the Sherlock Holmes-and-Moriarty scenario, the perfect example of artistic integrity. That was Arthur Conan Doyle saying, "I'm done. Holmes has solved enough mysteries." What better ending than to have your hands around the neck of your motal enemy, and both of you fall to your death?

King: Right! Over the falls you go!

Lindelof: But he cheated. Doyle brought him back. The fans demanded it. Everybody says that they want answers and an ending–but do they? When book seven of Harry Potter comes out, I'll be the same way I was at the end of The Dark Tower. I didn't want it to end, and I started to read it much slower and started feeling a sense of depression as all roads sort of inevitably lead to the end. The fact is, once our characters are no longer "lost," the show is over.