Find Anything – Ask Peeves!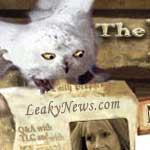 Nov 28, 2006
Uncategorized
Oh, we're sorry, has Peeves been pestering you on our home page and in the forum? We tried to get rid of him, you see, but Jo was right: He's like dry rot. You can't get rid of him.
That's why we found him a new home. Presenting the return of AskPeeves.org, our Harry Potter search engine! Some of you may remember Peeves from our 2005 April Fool's Day postings. He's back, and this time we've forced him to be helpful. Ask him to help you find anything – anything – Potter-related and you'll get it. That's right, this extends to the whole Floo: The Leaky Cauldron, The Harry Potter Lexicon, Accio Quote!, The Cauldron Shop, PotterCast, the Image and Video Galleries, and all the other related sites and sub-sites.
Looking for info on book seven? No problem. Order of the Phoenix film? No biggie.
You can choose which categories to search in any combination – just news and videos, just pictures and encyclopedia, just anything Harry Potter-related you want. Just ask Peeves.
Since one search now covers the most comprehensive and oldest Potter news and information databases on the Internet, by far the largest image and video galleries, the most complete compendium of official Potter products, the only JKR quotes site, and more, you can now find ANYthing and EVERYthing Potter in one spot. It's bringing our whole Floo together, with a little extra help from our old friend Peeves. Make sure you take your chance to put some words in Peeves's mouth, too, on the front page.
Such searching (especially in the image galleries) is only possible because of the ever-continuing and incredible job being done by elves every day all over the site, to properly categorize and keyword more than 68,000 images, hundreds of videos, more than a thousand products and more. As more and more images and other items receive this treatment, more and more information will be at your fingertips with this search.
As usual, there are huge amounts of people to thank: First and foremost is Nick Poulden, our magician, who coded this whole thing from scratch, and Alex Robbin, who helped with a lot of it. John Noe designed the page, and all the senior staff pitched in to help shape it as it developed. ALL the staff, right down to the elves, have been keywording and categorizing information for this project and for Leaky in general. Thanks especially to Stampsgal, flipendo, Pleshette, KimmyBlair, Aislinn, SusannahMio, atschpe, You_won't_know_who, libbysmom and Perenelle for all their help.
And that's it from us – keep up with the page to find out about contests having to do with Peeves in the future. Enjoy!