Confirmed: WB to Take Harry Potter DVDs Off Shelves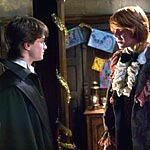 Nov 30, 2006
Uncategorized
For the past few months, rumors have swirled about whether or not Warner Bros. was planning to pull the home movies of the first four Harry Potter films from shelves. WB Home Video has confirmed to Leaky that the first three films – Harry Potter and the Sorcerer's Stone, Harry Potter and the Chamber of Secrets and Harry Potter and the Prisoner of Azkaban will go on moratorium on January 5, 2007. Harry Potter and the Goblet of Fire will become unavailable on January 22.
Note: This moratorium is for the US only; UK details will follow shortly.
Some companies – most often Disney – do this so that better/longer/more expensive/higher quality recordings can be sold unfettered later. With the recent rumblings about the high-definition Potter DVDs (which appear to have a commentary track for the first time ever), it could be that WB is planning to remaster, beef up and re-release the first four films. More as we get it.
In the meantime, if you want to buy the editions before they get taken off shelves, visit TheCauldronShop.com to do so!