David Yates on OotP: "Most Important Thing on Screen is the Actors."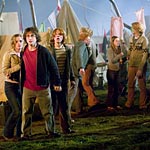 Dec 10, 2006
Uncategorized
Newsweek Magazine has a brand new interview with Order of the Phoenix director David Yates. In this article, Mr. Yates discusses the fifth Harry Potter film, saying he is "having the time of my life…It's like being at filmmaking gym. You're working every single muscle as a storyteller. These films are full of comedy, adventure and a bit of thrills. It's terrific."
Producer David Heyman weighs in on the new film, calling the storyline "like the French Resistance movement of the 1940s," which has allowed director Yates the chance to work with and push actors such as Dan Radcliffe (Harry Potter) to get the fullest out of their performance:
"I've stretched Dan quite a bit. He's a very intuitive person, very bright, quite sensitive," he says. "I'm just helping him wake those things up. You can see his determination and ambition, and he can switch things on a sixpence, so I can't wait for people to see what he's achieving." Yates does a lot of rehearsal before he shoots a scene, a rarity on major studio films. "It takes as long as it takes," he says. "The most important thing on screen is the actors. If the performance isn't real, that million-dollar special-effects shot behind the actor doesn't count for anything."
The December 18 issue of Newsweek will be available Tuesday. Thanks to all who mailed!