PotterCast 67: Attend the Tale of PotterCast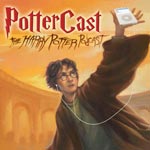 Dec 10, 2006
Uncategorized
Attend the tale of PotterCast as our 67th Harry Potter podcast, is now live. To listen, just hit the "Play" button on the right side of the page (—>), or use iTunes, or direct download. In this show:
-Extensive discussion of the "locked room" in the Department of Mysteries
-Arrr, we've been outsold
-Is there an opposite spell to the Cruciatus Curse?
-Harry and Rudolph the Patronus
-How to trick kids into reading Harry Potter
-The competition for the best male Hermione
-Proof the books are better than the movies
-Taste the filky goodness
-John has no pants
UPDATE: The Filks for the Holiday show are due on FRIDAY, DEC 15. Thanks guys, we can't wait to hear them!
Canon Conundrum Edit: Mike Neighbors
Other edits: Stede Bonnett
Running time: 1:07:54
Direct download (38MB).
Direct download low-bandwidth (9.5MB).
Remember you don't need an iPod to listen. Listen easily on iTunes, which you can download and install here, by clicking here to listen, or you can just use the streaming Flash player at PotterCast.com or just on the right side of this page. Discussion of the PotterCast is right here. Enjoy!