Katie Leung, Phelps Twins Attend "Eragon" Premiere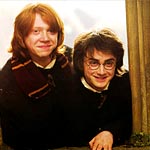 Dec 12, 2006
Uncategorized
Many readers let us know that Katie Leung (Cho Chang) and James and Oliver Phelps (Fred and George Weasley) attended the premiere of "Eragon" last night. You can see some photos here, here and here, as well as via KatieLeung.fan, here.
Update: Carol let us know that Bonnie Wright (Ginny Weasley) also attended the afterparty, and you can see a photo of her here at BonnieWrightOnline.com
Thanks to everyone who mailed!