"Premiere" Magazine Previews Order of the Phoenix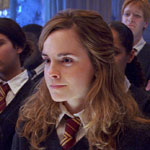 Dec 13, 2006
Uncategorized
For those that like to keep track of all the press clippings on the Potter movies, there is another to add the collection as the new January issue of Premiere Magazine contains a small preview of the upcoming Harry Potter and the Order of the Phoenix. Part of the magazine's 2007 movie preview, the Harry Potter mention features this previously released photo of Professors Trelawney, McGonagall, and Umbridge, along with the following description of the new film:
"Global terrorism. Political repression. Parental abuse. Fascist allegories. Yep, it's welcome back to the sinister and disturbing world of Harry Potter, teen wizard, who in this fifth installment of the franchise must contend not only with assassination attempts and first kisses but with the loss of someone very close to him. "This is the most overtly political of the films so far," says Radcliffe. Director David Yates (the Emmy-winning The Girl in the Cafe) agrees: "It will be edgier. It will be a little darker. It will be a little bit more complicated, emotionally."
With the wizarding establishment in denial over Voldemort's return, it's up to the titular Order, a group of freedom fighters-Oldman's Sirius Black and Thewlis's lycanthropic Remus Lupin among them-to battle the Dark Lord's army of Death Eaters (including Isaacs and Bonham Carter). Hogwarts, meanwhile, buckles under the bureaucratic meddling of new Defense Against the Dark Arts teacher Dolores Umbridge (Staunton), an authoritarian nightmare in pink taffeta. "She's a megalomaniac," says Radcliffe. "
The January/February 2007 Issue of "Premiere" (with Spiderman's Tobey Maguire on the cover) is due on newsstands next week.