JKR Updates Diary on Book Seven Progress: Still Writing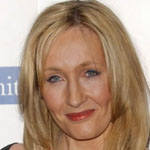 Dec 19, 2006
Uncategorized
J.K. Rowling has updated her diary on her website today with word on the progress of Harry Potter Book Seven, noting she is still "writing scenes that have been planned , in some cases, for a dozen years or even more. I don't think anyone who has not been in a similar situation can possibly know how this feels: I am alternately elated and overwrought. I both want, and don't want, to finish this book (don't worry, I will.)"
After having watched some of the upcoming Order of the Phoenix film, Jo is very positive about the fifth movie. She writes:
"I made another daytrip to Leavesden a few weeks ago, where I saw twenty minutes of Order of the Phoenix, which looks fantastic. Also got a chance, before they all took off in their different directions (it was the last week of live actor filming) to talk to Dan, Rupert, Emma and Evanna, which is always wonderful. Dan has changed his theory on Snape; he says he doesn't want to be like one of those people who are photographed, beaming, next to mad dictators.
Finally there was another amusing entry in the Rumors section of the website, shooting down a theory about Harry and Voldemort who will "form a single persona who will command both the forces of good and of evil."