New Photo of Dan Radcliffe on Exhibition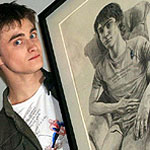 Dec 19, 2006
Uncategorized
Actors Dan Radcliffe (Harry Potter) and Alan Rickman (Professor Snape) are featured as part of an exhibition by photographer Michael Birt now currently showing in England. Page from DanRadcliffe.co.uk and Jenna from DanRadcliffe.com let us know that they have this new photo of Dan, which you can see here. We are still trying to obtain that photo of Mr. Rickman, and will update with more on that when we can. This exhibit runs now through March 17 at Fulham Palace; more info available via this link.
Michael Birt has taken portraits of many famous personalities over the years, including several from the world of Harry Potter. Here are his portraits of the late Richard Harris (Albus Dumbledore), Julie Walters (Molly Weasley), Timothy Spall (Peter Pettigrew), and GoF musician Jarvis Cocker.
Thanks Page and Jenna!