Amazon Calls Book Seven "Most Eagerly Awaited Books of All Time"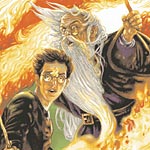 Dec 21, 2006
Uncategorized
With the news of the title for the last Harry Potter book now publicly announced, there has been widespread media reaction as you can imagine. Here are just a few of the news stories of interest on the subject:
Amazon.com is the focus of this story from Bloomberg news which highlights the fact that "Amazon said it experienced a surge of activity on its Web site after the announcement, describing it as "one of the most eagerly awaited books of all time." The Telegraph has further comments from the UK Amazon spokesperson who said:
"This is the first piece of the jigsaw in the final part of the Harry Potter series," he said. "The book's release will be met with an unprecedented level of excitement – but also a sense of sadness. Over the past 10 years, so many people have been enchanted by the world and characters that JK Rowling has created. It will be like saying goodbye to an old friend."
The Times online reports on the anticipation already by booksellers for a release date of the last book, where they predict huge sales. One spokesperson from Waterstones says:
"This is a wonderfully intriguing and ominous title, with all the sense of magic and adventure that any true Potter fan has come to love and expect….But surely the question all Potter fans will want answering as soon as possible is – when can they get their hands on a copy? We don't know the answer yet, but we're predicting that 2007 could be a pretty special year for Potter fans all around the world."
Lizo from CBBC Newsround gives us his thoughts on the title of the last book, as he says "I love the title Harry Potter and the Deathly Hallows, it's got a really scary feel to it, without giving too much away." For more on Lizo's thoughts, click here.
Finally, our own Melissa Anelli was interviewed by the Chicago Tribune where she sums up the feelings of many of us by noting "As Potter fans, we're elated and also saddened – this is the last one! It's like being given a fantastic Christmas present on the last Christmas ever."