Happy Birthday, Ralph Fiennes!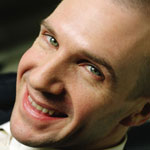 Dec 22, 2006
Uncategorized
Everyone ready to sing? OK, then, to the tune of "Bingo:"
We know a wonderful actor
Whose birthday is today-oh
R-A-L-P-H!
R-A-L-P-H!
R-A-L-P-H!
His birthday is today-oh!
Ralph Fiennes (Voldemort) turns 44 today. Cheers, Mr. Fiennes (and, as a special birthday favor, we will remind everyone that your name is pronounced, "Rafe Fines")!