PotterCast 69: Hallows, Gallows and a (Evanna) Lynch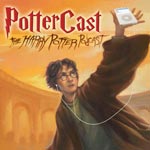 Dec 23, 2006
Uncategorized
On our 69th Harry Potter podcast, a special call-in edition to discuss the new Harry Potter title, our first caller is none other than Evanna Lynch, who will play Luna Lovegood in the fifth Harry Potter film. She joins us to talk about the title, what she did when she found out, what she thinks it means, and much more. The rest of the show features calls from you and as well as commentary from our friend Lexicon Steve.To listen, just hit the "Play" button on the right side of the page (—>), or use
iTunes, or direct download.
In this show:
-The real "Evanna Interview" will come later – right now it's just about the title
-Evanna doesn't think John is a Slytherin – and talks him out of thinking so, too.
-You can't contradict Jo Rowling, says Evanna. She also says Harry will die.
-We check in with our chat mods, who spent the whole day of the title release filtering through your theories – and came up with some very interesting hanging-related topics.
-Hollow vs. Hallows
-Arthurian legends and the Hogwarts founders
-Hallows vs. Horcruxes
-A visit to the place of the daed.
-Deathly Hallowanondrums, coming soon.
Editors:
Evanna Lynch Segment – Stede Bonnett
Last Segment – Jeff Gregory
Listener Call-in and Final Edit – Mike Neighbors
Running Time: 1:00:01
Direct download (28MB).
Direct download low-bandwidth (7MB).
Remember you don't need an iPod to listen. Listen easily on iTunes, which you can download and install here, by clicking here to listen, or you can just use the streaming Flash player at PotterCast.com or just on the right side of this page. Discussion of the PotterCast is right here. Enjoy!