Alfonso Cuaron Interview Mentions Ties Between PoA Film and HBP; Expresses Interest in "Deathly Hallows"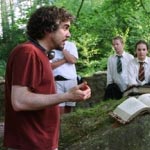 Dec 26, 2006
Uncategorized
Prisoner of Azkaban director Alfonso Cuaron has given a new interview with SFGate.com where he mentions again his interest in possibly returning to helm a Harry Potter movie. Echoing previous reports, Mr. Cuaron says he recently spoke as well with JKR, saying "I could tell based on our conversation that she is just so excited about No. 7. She was going through a really good stream of writing." Alfonso Cuaron also confirmed that indeed, he had ideas while filming PoA that possibly tied into the future books, including Harry Potter and the Half-Blood Prince.
Each time she got wind of a direction he was taking "Prisoner of Azkaban" in, she would tell him, "That thing you're trying to do sounds very interesting, but I would appreciate it if you don't do it because it would contradict something I'm going to do in book 6." Cuarón always honored her requests.

"You are dealing with a woman who has an amazing control of her universe and knows inch by inch that castle," he says.

Working on "Azkaban," which many critics consider the best of the Potter films, was "a blast," Cuarón says. "Those were the two most beautiful years of my life. Everything that happens around a J.K. Rowling creation is enveloped in this beautiful, beneficial energy."
UPDATE: According to this very short interview from Slashfilm, Mr. Cuaron has expressed interest in directing the film version of "Harry Potter and the Deathly Hallows," as he said "Let's see how the seventh book ends up, maybe that one — maybe." No director has been announced as yet for Half-Blood Prince, which is due to begin filming next summer.