Bookies Already Making Odds on Demise of Harry Potter in "Deathly Hallows"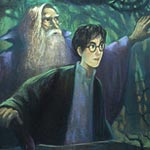 Dec 26, 2006
Uncategorized
Not ones to let any sense of sentimental holiday spirit stand in the way, bookies are already making odds on the demise of Harry Potter in Harry Potter and the Deathly Hallows. The BBC reports one oddsmaker feels that "the general consensus seems to be that Harry is the final Horcrux and to ensure that Voldemort dies he will need to be sacrifice," and thus "most of the early money has been for Harry, who has been cut from 10/1 to 6/1." The article goes on to note that Lord Voldemort is "the 4-5 favourite to kill off the popular character in the seventh book in the series." Other characters from the beloved series are also mentioned:
"Other contenders to kill Harry include Professor Snape at 5-2, Draco Malfroy at 6-1, Ron Weasley at 6-1 and Hermione Granger at 6-1.

Mr Adams added that the bookies have also accepted punts on Ron and Hermione to marry, with Harry as best man, and on Harry to catch the snitch in a Quidditch world cup. "
The oddsmakers hasten to add that all bets "will be void and stake money will be returned if Harry confounds pundits and survives. "
!!