"Deathly Hallows" On Way to Becoming Biggest-Selling HP Book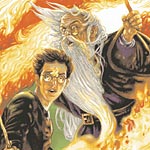 Dec 27, 2006
Uncategorized
Amazon.co.uk is reporting today that after the announcement of the title of Book Seven, pre-orders of Harry Potter and the Deathly Hallows surged to the top of their best seller list. A spokesman for the online retailing giant said today the astonishing response may be an indicator of future sales of the last Harry Potter book.
"To reach No 1 in our best-sellers chart after only eight hours is an incredible achievement.

"Thousands of people in homes and offices across the UK went online to reserve their copy the moment they had the opportunity.

"If the initial response is anything to go by, this could be the biggest-selling Harry Potter of all time."
Please note: As seen via our Cauldron Shop, the UK, French and German editions are available for pre-order from Amazon; the US and Canadian Amazon orders still remain at an email notification status only. No release date for Harry Potter and the Deathly Hallows has been announced.