Happy Birthday, Melissa Anelli!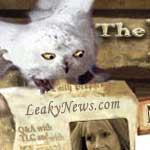 Dec 27, 2006
Uncategorized
And I am telling you
We're not going..
For there's something you gotta know
Yes, it's Melissa Anelli's Birthday
So let's celebrate this day!
She's our Queen o' the Cauldron, our special PotterCast Poppet, a girl full of dreams who leads our site as we move toward the final Harry Potter book, and someone who is celebrating her birthday today.
Won't you please join us as we say…
HAPPY BIRTHDAY MELISSA ANELLI!
PS: It's double the celebration as our Canon Conundrums king, all round great guy, and Floo partner Lexicon founder Steve Vander Ark is also celebrating his birthday today! Cheers Steve!