The Year in Harry Potter Books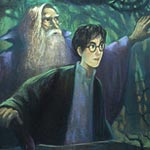 Dec 31, 2006
Uncategorized
And now for the last of our three wrapups of the year in Potter – our look at what has happened with the Harry Potter book series and in J.K. Rowling news. It's been a year of anticipation, clues, teases, attempted bannings, exciting events and most importantly a lead-up to the last part of this era of Harry Potter fandom. Huge thanks to Sue and Julie for researching this – enjoy!
January

We begin the year with buon tidings, as the Italian edition of Half-Blood Prince hits shelves. The book then wins an Oppenheim Award, and the Christian Science Monitor talks about Harry Potter, good and evil. A signed copy of HBP sells for 4500 pounds on eBay.
J.K. Rowling soon confirms that she has written a new children's book and will host a charity ball. She talks about the title of the seventh book in the Tatler and rumors surface about her visit to Romania. Meanwhile the thieves who tried to take the book before its publication are sentenced, and the Spanish cover appears online.
In an update to her site, J.K. Rowling talks about her trip to Romania and book seven, while photos of the trip begin to surface online, followed by screencaps and video. HBP recognized by the American Library Association and is released in Poland. Information about the Black family tree is announced as being auctioned off for charity.
February
The Hindi translation of the books becomes available in India, while JKR is revealed to be attending the Queen's birthday party. She then writes about her experiences in Romania.
HBP is released in Hungary, while official Mary Grand Pre artwork goes on sale and a more complete image of the Black family tree (later bought at auction by Dan Radcliffe) becomes available. JKR announces she will host a charity ball at Stirling Castle, and answers her FAQ poll on secret keepers. HBP is nominated for a British Book of the Year Award, and HBP is released in Spanish. JKR ends the month by writing about her progress on book seven on her site.
March

J.K. Rowling is conjectured as the greatest living British writer in the launch of The Book magazine, while the Sunday times says that JKR is set to read at the Queen's birthday (though erroneously reporting that she would be reading from book seven). A donation by JKR helps a charity fashion show. Meanwhile the HBP audio book is nominated for a 2006 Audie. HBP is released in Finland, JKR's charity ball raises 200,000 GBP for MS Scotland, and HBP in paperback becomes available for pre-order. As March ends, the "Do Not Disturb" sign disappears from JKR's office to reveal the first WOMBAT test.
April
April started quietly on Leaky, though on the second day of the month kids name the Potter books their favorite. Pictures of JKR at the British Book Awards surface surface, while Bloomsbury annnounces a special box set and new audio series. JKR
updates her site, including an article on the pressure on girls to be thin, which becomes an inspiring editorial that is reported widely across the globe. She also includes updates on the WOMBAT, and soon releases results of the first test.
Soon video of Jo at the British Book Awards surfaces, as well as Jo's interview for Girlguiding Scotland (later excerpts appear). J.K. Rowling also published an essay on growing up female, and makes Time Magazine's 100 Most Influential poll. The paperback cover for HBP is released.
May
JKR wins an important court case on May 5, which sets a precedent for the protection of children of celebrities. She then announces that she will return to the U.S. for the first time in six years, for a charity reading with John Irving and Stephen King. She updates her site with ticket info, as well as WOMBAT info, Horcri smackdown and more.
Despite Georgia woman Laura Mallory's early efforts in Gwinnett County to get the series banned, the town decides to keep the Harry Potter books. Meanwhile Scholastic editor Arthur Levine talks about JKR in a panel discussion. The Japanese HBP hits shelves, and JKR lends support to the Love Libraries campaign. A press conference is announced for August 1 at Radio City Music Hall to support the charity reading. We learn that Jo is actually to read from HBP at the Queen's birthday, and the New York Times publishes an article on how Harry Potter has driven big increases in children's book sales.
HBP becomes the first entry in the audio book hall of fame, and the world gets its first Hogwarts dinosaur. Wall Street pundits begin speculation about book seven, and Bloomsbury calls book seven likely for 2007.
June

J.K. Rowling is votedthe world's greatest living author by The Book Magazine, and Laura Mallory strikes again, appealing the ruling in Georgia. JKR appears at the Queen's Birthday, "Party at the Palace," with photos surfacing later. She talks about book seven to Reuters, saying that she was "feeling sad" about the writing.
Later she appears on Richard and Judy, revealing that at least two characters die in book seven and one had been granted a reprieve, setting off a worldwide firestorm of debate in the media and among fans. She also writes new article on the campaign over children in cages.
July

J.K. Rowling received an honorary degree as a doctor of laws from Aberdeen University. Meanwhile, Ron and Hermione make the Entertainment Weeklylist of best sidekicks, and J.K. Rowling again takes to the skies, as she gets her own asteroid.
Later in July information becomes available about the Scholastic podcast tour (with pics from the first event). HBP is released in paperback, and Scholastic unveils a report that quantifies impact on kids. The charity reading with JKR, John Irving and Stephen King becomes NYC's hottest ticket.
August

The month begins with JKR's appearance in New York, with coverage including pics and interviews, and more from the press conference (including a transcript). At the readings JKR says that Dumbledore really is dead and reveals more about what may happen in book seven with wands, Petunia and more.
She also says that she came up with a second title possibility for book seven while in the shower that afternoon. (The transcript for the first and second night are published on Leaky.)
The Scholastic podcast goes up on iTunes, and Leaky reveals video of JKR at the NYC RMH press conference.
September
The month begins as Lord Voldemort is voted top literary villain, and JKR adds her own ominous words about the evil overlord (namely that in book seven he gets his long-desired legroom to carry out his evil plans). A later debunked rumor surfaces that book seven is up to 750 pages ("I'm not close to finishing," she later says). Meanwhile JKR's blog and emails are to be archived.
Bloomsbury announces a special edition paperback, and JKR says that she is still deciding between titles. New placeholder artwork for book seven appears on Amazon.com, while the new QTTA box set is published. The "Do Not Disturb" sign disappears from JKR's Web site door, revealing another WOMBAT, Horcrux info and more
October
HP is voted the favorite banned book by the ALA, and a Georgia woman continues her fight to make sure HP always retains that title. Owls deliver the second set of WOMBAT results, and rumors about RAB's identity surface yet again.
A plaque commemorates Harry's "birthplace" in Edinburgh, while the second cover for the new FB/QTTA box set is revealed. Representatives say there is no truth to rumors about a HP Disney theme park, while 60 Minutes publishes old videos of J.K. Rowling online. JKR says she has a third book seven title.
November
HBP is nominated for a Scottish Children's Book Award, and JKR is called a hero by Time Europe. HBP is then voted the favorite Young Adult book by the American Library Association. Accio Quote! unearths and old video that mentions snake lore, while rumors surface of a Harry Potter traveling museum.
Though retailers start telling their employees and even random customers that the seventh book will come out on July 7, 2007, and start taking preorders, representatives for Jo tell Leaky that she is still "happily writing" and a release date has not yet been set. JKR wins the Scottish Book Award, and sends a thank you message that implies she is involved in heavy writing, perhaps signaling the soon-to-be finish of the final tome.
December
We get a fiery start as the HP books are defended by Ray Bradbury, author of Farenheit 451. HBP is voted Kids' Pick by Scholastic readers. Laura Mallory is defeated again in her quest to get Harry Potter banned from Georgia shelves, and plans another appeal.
There's more placeholder art for book seven available online, though an update from JKR reveals that the author is still writing. An article contains concerns on Potter release from Wall Street, and soon, all of that speculation becomes irrelevant, because on Dec. 21 the door opens on JKR.com and puzzlers quickly discover the big prize hiding behind a hangman game:
We find out that the title is revealed as Harry Potter and the Deathly Hallows.
A flurry of excitement sweeps across fandom; Leaky reveals that the title first appeared three years ago, and publishes a compendiium of more research on the meaning of the words. Amazon calls book seven one of the "most eagerly awaited books of all time," and Amazon UK puts the book on preorder and sets the first price.
Translations from international publishers stir further speculation.
Depite rumors to the contrary, the two alternate titles of "Heart of Ravenclaw" and "Deadly Veil" were revealed (exclusively) by Leaky to have never been contenders for the title.
Bookies are already making odds on Harry's potential death in the book, and book seven is already on its way to becoming the biggest selling HP book. The Royal Mail begins planning for the delivery of the book, and though yet another rumor places the release date at 7/31/07, Scholastic denies that the information came from any official source.
And that puts a cap on 2006, the year of wild speculation and anticipation, and most likely the last year in which Harry Potter remains unfinished. The next year is going to bring the kind of anticipation not even we as Harry Potter fans – experts in torturous waiting periods and fever pitches – have seen. We hope you'll be there with us as it unfolds.
Have a wonderful, safe, happy, prosperous and joyous New Year, everyone!