2007: The Year of Harry Potter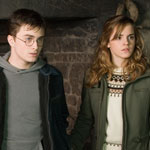 Jan 05, 2007
Uncategorized
As the new year begins, news organizations and publications are releasing their most anticipated movies and events of 2007, and these include Harry Potter in one form or another. Entertainment Weekly picks both the Harry Potter and the Order of the Phoenix movie, and (a possibe) Book Seven as one of the "20 Big Events of 2007." MTV takes it even further when they rank the Order of the Phoenix movie as their number one pick for 2007.
"It is time for me to tell you what I should have told you five years ago," Dumbledore tells Harry Potter in "Order of the Phoenix" "I am going to tell you everything." And so he does. The real question is whether or not he'll tell us — the explanatory resolutions at the end of Rowling's books have been among the most glaring and obvious omissions from the series' films. And with big characters and plot points that fans reference with capital letters — the Prophesy, the Giant, the Senior Undersecretary, the Death, the Loon, the Order — there's enough here for two movies. After the series' climax in "Goblet of Fire," Harry tries to warn the world of the return of Lord Voldemort to no avail. Fans with a keen eye will be attempting to divine possible plot points for the seventh and final book: "Harry Potter and the Deathly Hallows." No time-turners allowed — the film opens July 13."
Finally, CNN has a humorous prediction on Harry Potter in 2007.