Georgia Woman Continues Fight to Ban Potter Books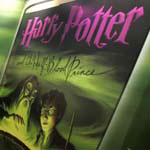 Jan 18, 2007
Uncategorized
As expected, a woman in Georgia is continuing her attempts to have the Harry Potter novels banned from school shelves, even after losing several rulings on the matter. As we reported previously, Laura Mallory was expected to appeal and now news organizations are reporting that is the case as Ms. Mallory "has requested an appeal of her case to Gwinnett Superior Court." Claiming she has received "significant donations" from supporters to help in her quest, she has now filed an appeal against the State School board in Georgia who has previously denied her attempts to ban the beloved series.
"The state board did not consider the merits of the books in making its decision. Instead, board members were asked to determine whether Gwinnett had properly handled Mallory's complaint. Without discussion, objection or comment, the members upheld the school system's procedure — much to Mallory's chagrin.

"I really feel like they haven't addressed all the issues that I've raised," Mallory said after the state board decision in December.

Mallory said Wednesday she's ready for a legal fight. She said she's contacted a potential expert witness to lend support to her case. And she said supporters who urged her to press on have sent her "significant donations" to help pay legal fees.