John Williams Misses Scoring Potter Films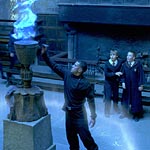 Jan 24, 2007
Uncategorized
Earlier this month The Chronicle of Higher Education featured a new interview with composer John Williams where he discussed his involvement with scoring the music for the Harry Potter films. Asked why he was unable to score the music for Harry Potter and the Goblet of Fire, John Williams said it due to prior commitments to other films and he also says he misses scoring the music for the Potter films.
"Now that he is in his 70s, one might expect Williams — who has written more than 300 scores — to slow down. But he is so prolific it's hard to keep up with his work. When I asked him why the latest Harry Potter movie didn't have John Williams music (much to the disappointment of me and my children), he explained: "It was a schedule problem; … of course I would have done it if I could, but it overlapped pretty exactly with Star Wars: Revenge of the Sith and War of the Worlds. The Lucas-Spielberg relationship took precedence on my schedule, and I had commitments to both those films earlier on. I must say I miss doing it."
John Williams composed the memorable music for the first three Harry Potter films, Harry Potter and the Sorcerer's Stone, Harry Potter and the Chamber of Secrets, and Harry Potter and the Prisoner of Azkaban for which he received many honors and nominations for his work on these excellent scores. The music for the upcoming Harry Potter and the Order of the Phoenix will be written by composer Nicholas Hooper.