New Images of High Definition "Goblet of Fire" DVD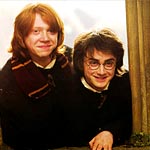 Feb 19, 2007
Uncategorized
Following up on that High Definition DVD of Harry Potter and the Goblet of Fire we have been telling you about, thanks to TLC reader James, we now have some new images from this disc. As we first told you last year, this DVD does contain new commentary from James and Oliver Phelps (Fred and George Weasley), and you can see some screencaps of them as well as the DVD menu, here in our galleries.
UPDATE: Even more are now in the galleries; check them out here.
Thanks much to James!