New Video Interviews with Dan Radcliffe Online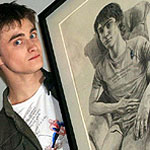 Feb 28, 2007
Uncategorized
In the wake of the official opening of the play Equus in London last night, new video interviews with actor Dan Radcliffe (Harry Potter) about his play are now starting to appear online today. The first is now up on the BBC website, and you may watch this interview, which also features quotes from some of the celebrity guests at last night's opening, here.
Update:Jas from DanRadcliffeonline.com let us know about the following addtional interviews :
Update 2: MSNBC has a good interview, here. (at link, click on the word 'launch" to view-video takes a few minutes to load)
Thanks Jas and Maria !