Happy Birthday, Gary Oldman!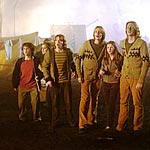 Mar 21, 2007
Uncategorized
It's a Marauders birthday party of sorts here in the Cauldron, for today actor Gary Oldman (Sirius Black) is celebrating his 49th birthday! Cheers to you Gary!
Also in the midst of yesterday's news we missed that actor David Thewlis (Remus Lupin) celebrated his 44th birthday. Happy belated birthday David!