New Interview with Evanna Lynch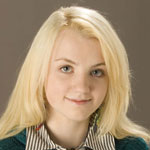 Apr 12, 2007
Uncategorized
The Drogheda Independent newspaper has a lengthy new interview with actress Evanna Lynch where she discusses things such as working on Harry Potter and the Order of the Phoenix, her role as Luna Lovegood, as well her feelings on Harry Potter and the Deathly Hallows. She described working on the fifth Harry Potter film as "just as brilliant and as perfect as I had hoped," and also says she had "lovely times" working with many of the actors on the set. Evanna, who landed the part in the film after taking part in an open casting call for the role of the Ravenclaw student, is looking forward to the release of the OotP this July noting "It will be amazing to be on the other side of the barrier this time. For the last premiere I watched the actors arriving and it will be so odd this time to be there also arriving with them."
Evanna also mentions her delight over the possibility of Half-Blood Prince being filmed in Ireland, as she says that "some of the cliffs in Ireland would be very beautiful for The Cave chapter.There would also be some great spots for Dumbledore's funeral. Needless to say I would be watching every day even if it wasn't a Luna scene!"
When asked if there were any similarities between her and the character of Luna Lovegood, the young actress replied:
"Yes, quite a few. Our taste in clothes is very similar. I proudly and happily wore her clothes and I think she would wear mine too. I believe that almost anything is possible if you see the possibilities rather than the obstacles; Luna has some very unconventional beliefs that need no basis of fact and while I don't share them I think it shows us that she won't believe things are untrue until you have some very firm evidence.There is no evidence to suggest that The Crumple Horned Snorkack exists but there is no evidence to suggest that it doesn't exist, therefore she can believe in it.
…
Luna is so free and seems to drift along with life, dealing with everything as it comes to her.I have more goals so I've more worries. I think that's why I love Luna so much.She doesn't have to have achievements or approval to feel satisfied and she's as wonderful and balanced a person as anyone could be. She knows worrying is pointless so she just floats and I really admire that in her."
Finally, echoing some previous comments from the actress made on PotterCast, Evanna Lynch gives her thoughts on what might happen in Harry Potter and the Deathly Hallows.
I know some things about what is ahead for Luna so I can't give you my ideas there . . .Deathly Hallows, well, none of us ('us' meaning the fans, we're a community :)) know, but we have theories. My favourite theory is that it refers to the veil in the Department of Mysteries.

All Hallows Eve is the time when the 'veil' between the two worlds is at it's thinnest. I think Harry will have to go through the veil for some Horcrux-hunt related reason and he'll have to get to understand death more and he may meet Dumbledore because apparently JKR told Dan that DD was giving her 'trouble'.

Also JKR is always emphasising that there are worse things than death and I think it would be very like her to trick us like that, so that Harry is 'dead' but we're still with him, death isn't the end. Most people think that he either lives or dies but I like the idea that it's an in-between."
To read this entire interview, click here. Registration is required but is free. Thanks to Emma from Snitchseeker!