Presenting: The Ultimate Deathly Hallows Predictions Test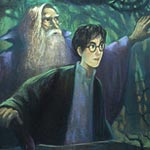 Apr 12, 2007
Uncategorized
To celebrate having less than 100 days to go until Harry Potter and the Deathly Hallows hits shelves, we are launching our longest and most interactive and most important competition EVER. The one that could make or break your whole fandom reputation. The quiz that will earn you your Harry Potter cred.
It's our Deathly Hallows Predictions Test, our massive quiz designed to record all YOUR guesses on what will happen in book seven. This is only part ONE – we'll release new questions every 20 days until July 21. Your predictions will be stored via your email address, and at the end of the quiz you'll get code for a button for your blog/Web page/MySpace/LJ/etc. that allows you to share your predictions with anyone you want.
After Deathly Hallows hits shelves, we will grade this test. Those who got the most questions right just may get some awesome prizes (so awesome, we don't know what they are yet. We'll let you know when we do). And since there will literally be hundreds of questions (we're starting with an even 100), a high score is cause for some serious brag points among your Potter pals – who should totally let you get away with it. After all, did they do better?
So, take the quiz, and enjoy – this is the last time EVER that a quiz like this is possible, and we want to know what kind of Trelawneys, Firenzes, Cassandras, and even Nevilles we have among us. Take the quiz by clicking here!
Mucho thanks go to John Noe, Nick Poulden, Doris Herrmann, Praxagora, and the host of Leaky helpers that gathered all the necessary info and fact-checked all our information. You guys are great.
UPDATE: Well, it would seem the Death Eaters are playing havoc with the system right now, and we know that things are either moving slowly or not working right. Hang tight, the LeakyDA is on the job, and we will let you know when this is working smoothly again.