First Ads for "There Will Soon Be 7" Scholastic Campaign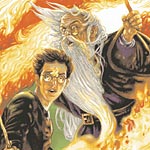 Apr 14, 2007
Uncategorized
The first of the new ads for the Scholastic "There Will Soon Be 7" Harry Potter and the Deathly Hallows release campaign has now been spotted. The new issue of "Entertainment Weekly" magazine contains a full page ad bearing this new logo for book seven, which is part of the marketing campaign that Scholastic, the US publishers of the Harry Potter series, is set to formally launch this Tuesday.
Update: The advertisement, which looks similar to this ad TLC first showed you last month, is now available here in our galleries, courtesy of Stephanie, from RupertGrint.net. Thanks Stephanie!
Also, please continue to send in any scans or photos of the new signs, ads and the like you may run across as this new campaign continues, and we will add them to this ongoing album here in our galleries.