PotterCast 85 Now Available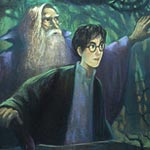 Apr 15, 2007
Uncategorized
We are back to normal this week, on our 85th PotterCast, our Harry Potter podcast. To listen, just hit the "Play" button on the right side of the page (—>), or use iTunes, or direct download. In the show this week:
-A fan interview with Gracie, who made a cake that looked like the Deathly Hallows cover
-Harry Potter Land
-More on the Goldenberg interview
-John's Light Saber Spell
-IT'S NOT CHRISTIAN!
-Scribby 5 on the satire, "Snape: Good or Bad of Good in Bed"
-Send your stories to Melissa: [email protected]
-Where will you be?
-Our next voice message challenge!
Editors
Fan Interview and Scribby 5: Matt Kelliher
Cover Art Reaction: Stede Bonnett
Trio and Show Compilation: Jeff Gregory
RT: 1:06:25
Links:
Cover Art!
HarryPotterSeven.com
Podcast Alley
Digg
Direct download (32 MB).
Direct download low-bandwidth (8 MB).
Remember you don't need an iPod to listen. Listen easily on iTunes, which you can download and install here, by clicking here to listen, or you can just use the streaming Flash player at PotterCast.com or just on the right side of this page. Discussion of the PotterCast is right here. Enjoy!